Bringing It All Together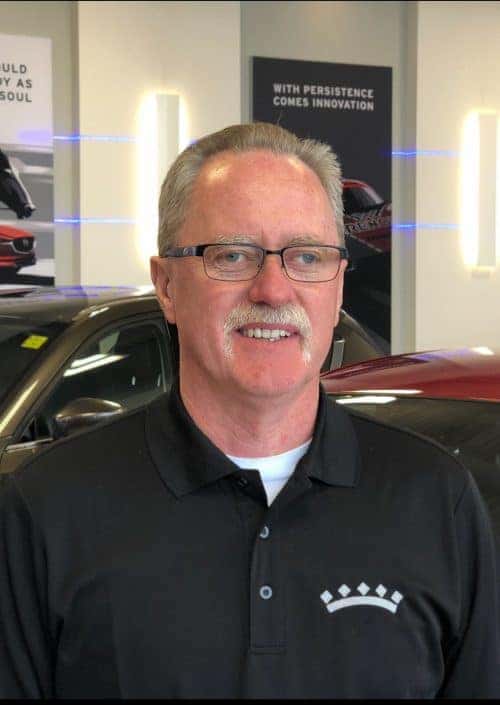 Service Advisor Aron Heide spent his childhood taking apart cars, and now as an adult, he's dedicated to putting them back together. Raised in Winkler, Manitoba, Heide was made aware of the importance of a vehicle at a very young age. Heide and a friend would take apart the destroyed cars of his friend's older brother for fun.
"I did what all young boys do. They play with stuff."
Once Heide began high school, he jumped at the chance to learn how to put a car back together. After graduating from Garden Valley Collegiate in a year that is best left unnamed, Heide ventured out to the big city: Winnipeg, Manitoba. This Modern Mennonite started attending classes at Red River College, graduating in 1981 as a Red Seal Technician. That same year, Heide and his wife bought their first home and a cabin in Hecla Island.
After spending many years in the Auto Industry, Heide finally found his home at Crown Mazda as their Service Manager.
"I like it here. I like the company. I like what I do. I really like what I do."
Heide stepped down from as Service Manager in 2017 to spend more time with his family. As a father of three daughters grandfather to two boys, Heide has a very busy home life.
"I like to spoil my grandkids. And I get a lot of heck for it."
Heide enjoys his evenings either at his Hecla Island cabin or at home playing with his grandkids. The only engine work Heide does at home is for his grandson's homemade jeep.
"I just piddle around with the small stuff."
You find Hiede in Crown Mazda's shop doing what he loves, working on cars. With retirement around the next corner, Heide says he is looking forward to spending more time with his family. Heide is planning on taking "every opportunity" to spend more time with his family.
You can find Aron Heide in Crown Mazda's shop or by Phone and Email.
Phone: (204) 594-9247
Email: Aron.Heide@crownmazda.ca